Insights
Inflection Point: Exploring the Lasting Effects of COVID-19
April 2, 2020
The accelerating pace of change over the last half-century, and especially over the last two decades, has dulled our sense of the extraordinary. We've experienced awesome and tragic, seen the unbelievable, bought the latest game-changing products, or been disrupted or the disruptor. We've started to believe the hyperbole and think we've seen, experienced, and successfully navigated through events on both ends of the spectrum.
Until now.
Recalibrating what's possible.
The COVID-19 pandemic is causing a re-calibration of what's possible. In the near-term, we're (appropriately) focused on the negative end of the spectrum with a global coalition working to minimize how much that moves and solving immediate challenges. Fortunately, we're also seeing glimpses of how the positive end of the spectrum can be stretched too, whether it's through the individual heroics of the physicians, nurses, scientists, EMTs, grocery store workers and others who are on the front lines; corporations acting in the best interests of their employees, their customers, and the public; or government institutions that are demonstrating their expertise.
As a futures-focused company, we are exploring the short- and long-term futures that may emerge after the bounds of possibility are stretched and what those futures could mean to society; i.e., the individuals and institutions that make up the world around us.
As our CEO, Maria Bothwell, introduced in her COVID-19: What Now and What Next blog last week, we're going to start a series of blogs intended to help with near-term decisions by addressing "what now" with information and actions that will assist steering through the crisis. We'll also include "what next" topics that look post-pandemic to the potential lasting changes in society and how those changes could impact individuals and institutions (governments, NGOs, non-profits, commercial enterprises, small businesses, etc.).
What Now: Short-term Drivers of Change
Duration. Most crisis plans are based on responding to an event that is within a fairly short time window; e.g., natural disasters, cyber-attacks, terrorist strikes. While the aftermath may take years to recover from, the event happens, then it's over. Not with a pandemic.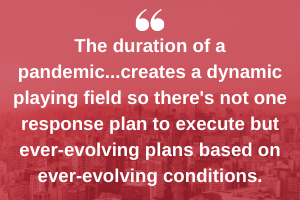 The duration of a pandemic event is measured in terms of months, or years, and creates a dynamic playing field so there's not one response plan to execute but ever-evolving plans based on ever-evolving conditions. We are in an unstructured environment with uncertain variables, which requires a structure for dynamic crisis leadership and decisions.
Scale. Typical crisis plans also assume a contained area of impact and some degree of normalcy outside that area of impact. This means the "normal" area can support the afflicted area. Again, not with a pandemic.
At this point, nothing (or nowhere) can be assumed reliable because of the global scale of COVID-19. There are few areas of normalcy that can be counted on to support the areas in distress. Distress is universal. The timing of impact may differ geographically, but this generally adds complexity to response planning and decisions rather than a source of support.
Because of the duration and scale of the COVID-19 pandemic, foresight and futures-based thinking need to be injected into crisis plans – even if the "future" is two weeks or two months out. The shifting conditions require dynamic crisis leadership that is constantly re-evaluating the environment (facts and assumptions) and potential outcomes (challenges, scenarios and impacts), along with resilience-based decisions and response plans (actions) that balance immediate needs with long-term considerations.
What Next: Long-term Drivers of Change
Risk. Experiencing personal impacts, like knowing someone who contracts or dies from COVID-19, job loss, or financial trouble, highlights risks to individuals and organizations. The unthinkable becomes possible – even potentially repeatable. This new awakening to risk at a personal and global scale will have a lasting impact on societal beliefs and behaviors. People and organizations will change how they assess risk, prepare for risk, and evaluate the vulnerabilities of individuals and institutions around them.
Social distancing. Society's collective, but individualized, experience with social distancing will erase old behaviors and create new ones – the longer the confinement period, the greater the degree of permanent change. It's easy to see that ten to twelve or more weeks is more than enough time for burning in new remote work and learning behaviors and, maybe more important for lasting change, the creation and hardening of the supporting infrastructure. This time frame is also adequate for new products to be developed and launched, celebrities to materialize from unknowns, and policies requiring an in-person presence to be updated (remote voting is in the news but will digital signatures become the norm, can a jury be remote?). It's clear that there will be a new normal that emerges across society after society emerges from isolation.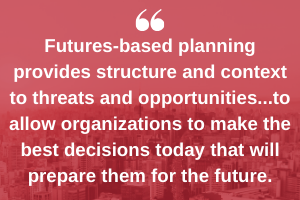 Risk and social distancing will generally be the root causes of new beliefs, needs, and behaviors that are the lasting impacts of the COVID-19 pandemic. Futures-based planning provides structure and context to threats and opportunities that may arise in the future. Stepping into that future will allow organizations to make the best decisions today that will prepare them for the future.
Exploring What Now and What Next
As we examine "What Now" over the next several months, we'll address areas such as:
Dynamic Crisis Leadership and Resilient Decisions
Defining organization expectations during the crisis and regaining productivity
Re-evaluating investment initiatives and priorities
Balancing crisis management with business-as-usual and future planning
For "What Next," we'll be imagining the answers to questions like:
Are we entering the age of celebrity teachers?
Where can declining trust trends be reversed?
How might nation-state sovereignty be redefined?
What could drive the global re-emergence of a middle class?
How will privacy vs. security debate change?
What disruptions may be accelerated?
We hope this series will be informative, but, most importantly, spark your imagination to manage in the near-term and prepare for the long-term.
For more from the COVID-19: What Now and What Next series:
{{cta('8f7815e1-b0f9-4dba-86f1-0d46aa023c6d','justifycenter')}}
Get The latest Toffler Insights & News