Insights
From Toddler to Team Leader – Educating the 2040 Workforce
August 8, 2019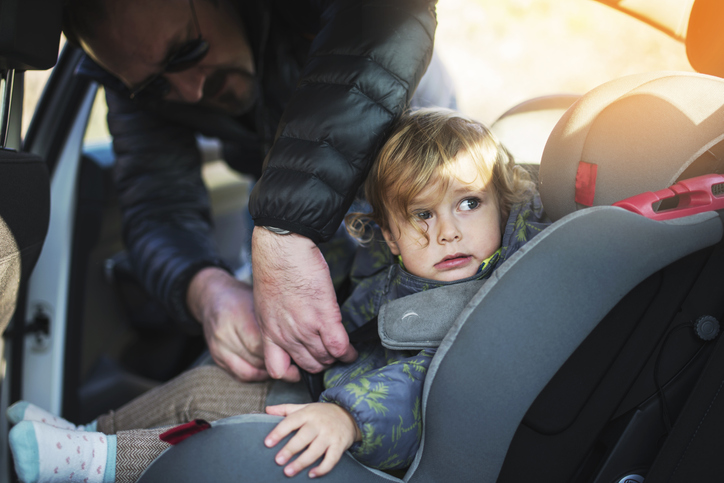 In May, Toffler Associates hosted an event called Pinot and Ponder, which brought together 75 people to imagine what professional life and the nature of the workforce will be in 2040. The broad consensus was that by that point, machines will have taken over a significant number of the tasks currently performed by humans because. Last week, a colleague and I had the distinct pleasure of presenting the results of this discussion before the joint meeting of the Federal Foresight Community of Interest, the Public Sector Foresight Network, and the Association for Professional Futurists. The theme of this session centered on the disparate rates of progress between human and machine learning, and how education and government can most effectively create parity over the coming decades.
Just looking at the calendar makes 2040 seem a long way off, but there's no arguing that the time will pass quickly. (Ask any parent who has watched their child graduate from high school or college. They will tell you that long days turn into short years.) Indeed, thinking specifically about our student-aged population, the frank reality is that those who will be entering the professional workforce in 2040 today actually are in diapers and car seats today. It's likely their leaders and managers haven't graduated from high school.
With the machine workforce progressing faster than humans are growing and maturing, how do we create developmental parity? Specifically, how do we prepare a generation of leaders to work alongside sophisticated machines? Machines are progressing at lightspeed. Certainly, one way to keep up is to start early — and we are — babies entertain themselves with tablets even before they can walk. They know how to open and operate an app before they can tie their shoes. In less than a generation, we've progressed from raising digital natives to raising mobile natives. But familiarity isn't going to be enough to level the human-machine playing field. Machines will continue to advance faster than people, so success 20 years from now demands our leaders in government, education, and industry start serious discourse and action now.
National Beliefs About Opportunity
As a nation, we need to remember that everyone across our nation deserves an opportunity (even if some will self-select out of the process.) That path to opportunity and a fulfilling life does not hinge on college. Even with automation remaking industries like manufacturing and logistics, we'll still need buildings to be built, art to be created, people to be nursed (and more). Contrary to concerns, the reality is that trade and special skills jobs are not going away. And for those who do these jobs, there are faster and cheaper pathways to getting the necessary knowledge, skills, experiences, and network than traditional college tracks.
Rethinking Academia
Progress begins with our education system, which operates like a marketplace where you trade time and money to gain a set of knowledge, skills, experiences, and a network. Ideally, those outcomes combine to yield a fulfilling life. Looking 20 years into the future, the inputs, outputs, and ultimate outcomes will change. That's the reality. The question is how they will change and how it will redefine personal fulfillment.
Much is being written currently about the cost of post-secondary education. According to Forbes, 44 million Americans hold $1.5 trillion in student debt. Only home mortgages account for a higher amount of consumer debt.1 Making the matter worse, most of these students cannot afford to repay their loans. They're sacrificing years of retirement savings in order to pay for school, which is problematic in and of itself, but becomes more so when you factor in the reality that life expectancy is increasing. We have a generation essentially mortgaging their future financial stability.
The time it takes to get a degree is also a concern. According to the National Center for Education Statistics, about 60% of first-time, full-time undergraduate students who began seeking a bachelor's degree in fall 2010 earned a degree — in six years.2 High cost, lengthy payoff windows, and extended time required to completion are market inputs that many students and families can't manage, making academia a hurdle. The situation raises the practical question as to whether the knowledge, skills, experiences, and networks a student gains through higher education is worth the cost and time. Even as the subject of free college for all is an ongoing point of discussion, what may make more sense is to start with the question about whether or not college is the right way for everyone to lay a foundation for a fulling 60 to 80 years of life.
In some cases, the clear answer is yes. Network, quality learning resources, and brand credibility can lay a foundation for professional success. (The elite college admissions scandal may not have happened if that wasn't the case.) But even that expectation seems to be debatable for most students. It may be obsolete 10 or 20 years from now. It's simply too slow, too stagnant, and too impractical to remain relevant, especially when compared with how quickly digital co-workers like AI are taking on knowledge and tasks.
If we believe that opportunity is a universal right and that education is the path to opportunity, we have to discuss some fundamental questions about what we need to do now to lay the groundwork for a productive and profitable future.
As we strap tomorrow's leaders into their car seats, what can we be doing to (re)shape the educational system to prepare them for tomorrow? Answering the question begins with a frank and honest assessment of the role the education system plays in preparing the future workforce. It also requires that starting with primary and secondary education, students are assessed on standards that are meaningful today as well as those that likely will matter tomorrow. By leveraging the tools of foresight, new learning imperatives can be created that can (and should) serve as the basis for education system reforms.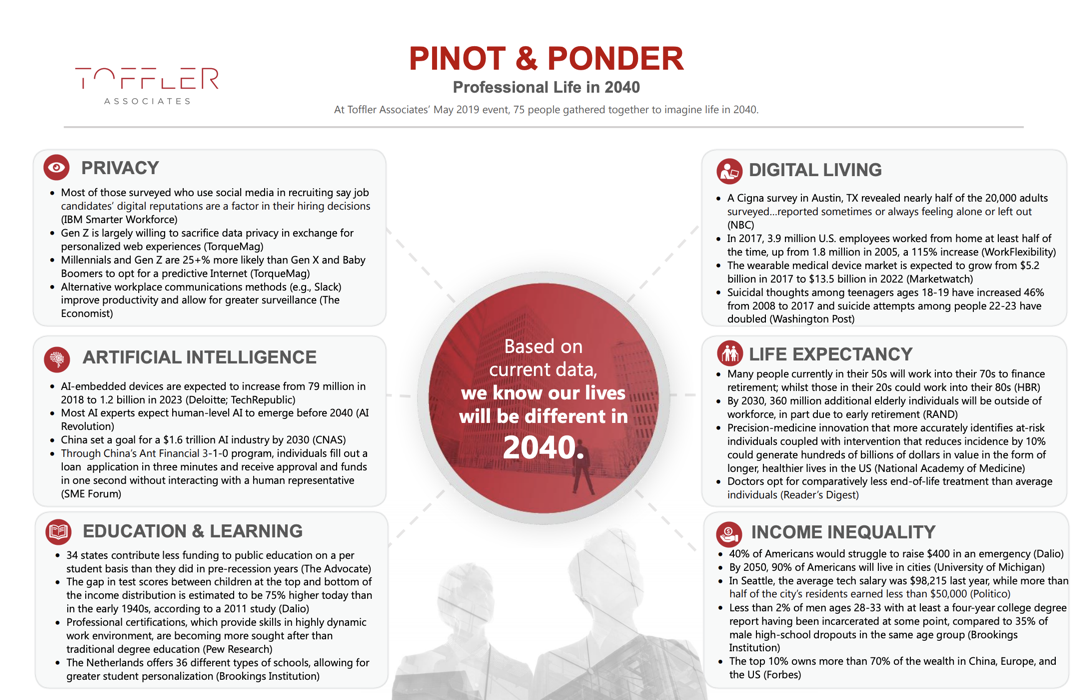 Considering how to manage the confluence between opportunity, education, and parity with machines is just one example of the many discussions that have emanated from the Toffler Associates' Pinot and Ponder events. Many of our clients are considering what will impact their world of work in 2040 and what they need to do now to position their organizations to thrive in the future.
We welcome you to download the insights from this session to kick off your conversation. If we can help you start the dialogue, give us a call.
Get The latest Toffler Insights & News