Insights
Future Disruptive Technology: AI and Trust
December 13, 2018

Building off the momentum of our Disruption 2030 report where we explored the driving changes, shocks, and disruptive technology that will shape the future, and together with the Department of Homeland Security's Science and Technology (DHS S&T) directorate, Toffler Associates convened public and private sector executives, thought leaders, and technology builders for off-the-record discussions focused on exploring the implications of this future where disruptive technology – more specifically artificial intelligence – is harnessed by us and our adversaries.
Participants engaged in discussions on: 1) the growing power of artificial intelligence, robotics, automation; 2) their implications to the homeland security enterprise (HSE); 3) impacts on trust establishment and maintenance; and 4) the role of security organizations in the future.
What We Learned…
Seek to Understand 'Past the Hype'
Artificial intelligence, robotics, and automation are increasingly becoming capabilities that leaders pursue without first understanding what the technologies require in order to create value, mitigate risk, and how it will impact their organizations.
Invest in Workforce Education & Resilience
The complex technological landscape creates risks and opportunities that fundamentally change (for better and worse) how an organization's workforce creates and delivers value.
Transform Existing Service Models
Consumer demand shifts and operating environment dynamics force both commercial and government organizations to redesign and employ service models that focus on providing more effective, efficient, and personalized services to consumers.
Manage the Impending 'Digital Divide'
Advanced technologies may increasingly fracture society and exacerbate existing inequality, generating greater disparities between the "haves" and "have nots."
Additional Research Shows…
After interviewing over 350 global executives on disruptive technologies, several trends emerged.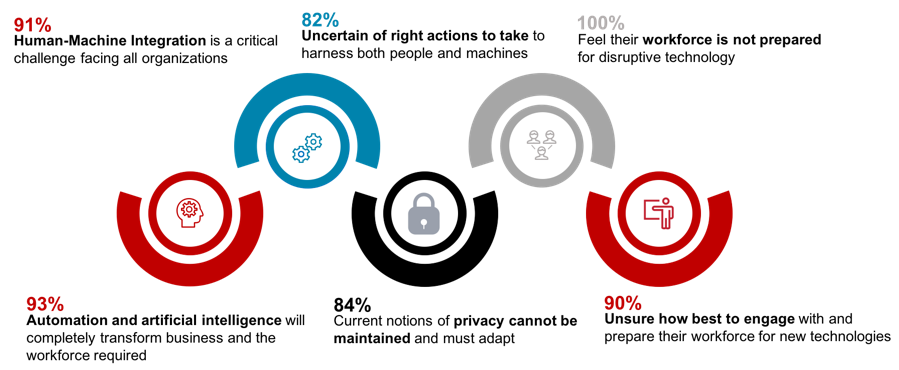 Click here to read the full discussion on Future Disruptive Technology: AI and Trust
{{cta('63e2a780-da0e-404a-8052-30496c6e3672′,'justifycenter')}}
Get The latest Toffler Insights & News